Georgia Power Donates $5,000 for STEM at Wiregrass
Georgia Power Donates $5,000 for STEM at Wiregrass

VALDOSTA – Georgia Power Foundation donated $5,000 to Wiregrass Georgia Technical College Foundation South on Sept. 18, to enhance Science, Technology, Engineering and Math programs.

Georgia Power Foundation has provided support for workforce development for many years and is now specifically supportive of STEM programs at Wiregrass, the foundation said in a press release. One program being supported is the Electrical and Computer Engineering Technology degree. The program is designed to educate students to become electrical engineering technicians with a specialization in computer engineering technology, electronics engineering technology, or instrumentation and control engineering technology, according to a press release.
Audrey King, Region External Affairs Manager with Georgia Power Company said," Georgia Power Company is committed to promoting STEM for continual growth and development of the students at WGTC. Therefore, an initial donation of $5,000 has been provided as we seek to improve opportunity for the future workforce."

To discuss ways to partner with Wiregrass Foundation South for workforce and economic development, contact Dr. Penelope Schmidt at 229-293-6190 or penelope.schmidt@wiregrass.edu. For more information about certificates, diplomas and degrees in business, health, technical/industrial, professional services, or dual enrollment, please call 229-333-2100.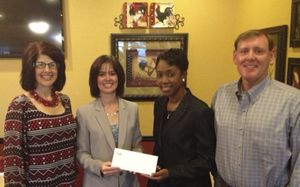 Andrea Schruijer, Executive Director
Valdosta-Lowndes Development Authority
103 Roosevelt Drive
Valdosta, Georgia 31602
229.259.9972