blog
June 2013
Valdosta State and Wiregrass Continue to Grow Partnerships
June 7, 2013
Valdosta, GA— 2013 is turning out to be a year of collaboration for Wiregrass Georgia Technical College and Valdosta State University. The year is not even half way over and the two colleges have...
---
May 2013
Wiregrass is working to help local industries close the skills gap
May 7, 2013
Valdosta, GA— According to recent reports, by 2030 there will be 79 million retirees in what is considered the skilled trade industries. Those same reports are predicting that there will only be...
---
March 2013
Here, In Valdosta-Lowndes County, Georgia… OUR COMPANIES THINK BIG.
March 27, 2013
Founders of Fresh Beginnings/eLEAD1ONE Win BIG Thinker Award, Plan For Expansion Barbara Kieker - www.ValdostaCEO.com On March 21, Judy and Hugh Hathcock of Fresh Beginnings, Inc./eLEAD1ONE...
---
January 2013
Forestry industry earns jobs, dollars for Georgia
January 14, 2013
Gov. Nathan Deal today announced that a study by the Georgia Institute of Technology for the Georgia Forestry Commission shows that in 2011, economic activity generated by the forestry industry...
---

Tourism remains big business for Lowndes County
January 8, 2013
Brittany D. McClure The Valdosta Daily Times VALDOSTA — In August 2012, the Georgia Department of Economic Development released a 2011 study of travel economic impact on Georgia's states,...
---

2013 Georgia Logistics Summit
January 7, 2013
On March 19-20, 2013 the Georgia Logistics Summitt celebrates its fifth anniverasary and continues to be a highly anticipated event. In 2012 the Summit hosted 1,600 attendees from 28 states and 7...
---
December 2012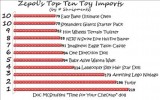 December 2012 Logistics Market Snapshot
December 17, 2012
Please find attached the December edition of the monthly Logistics Market Snapshot. As we enter into the final weeks of the Holiday season, we have included below some selected encouraging seasonal...
---
Andrea Schruijer, Executive Director
Valdosta-Lowndes Development Authority
103 Roosevelt Drive
Valdosta, Georgia 31602
229.259.9972