Valdosta-Lowndes Development Authority Recognizes National Manufacturing Day
October 4, 2016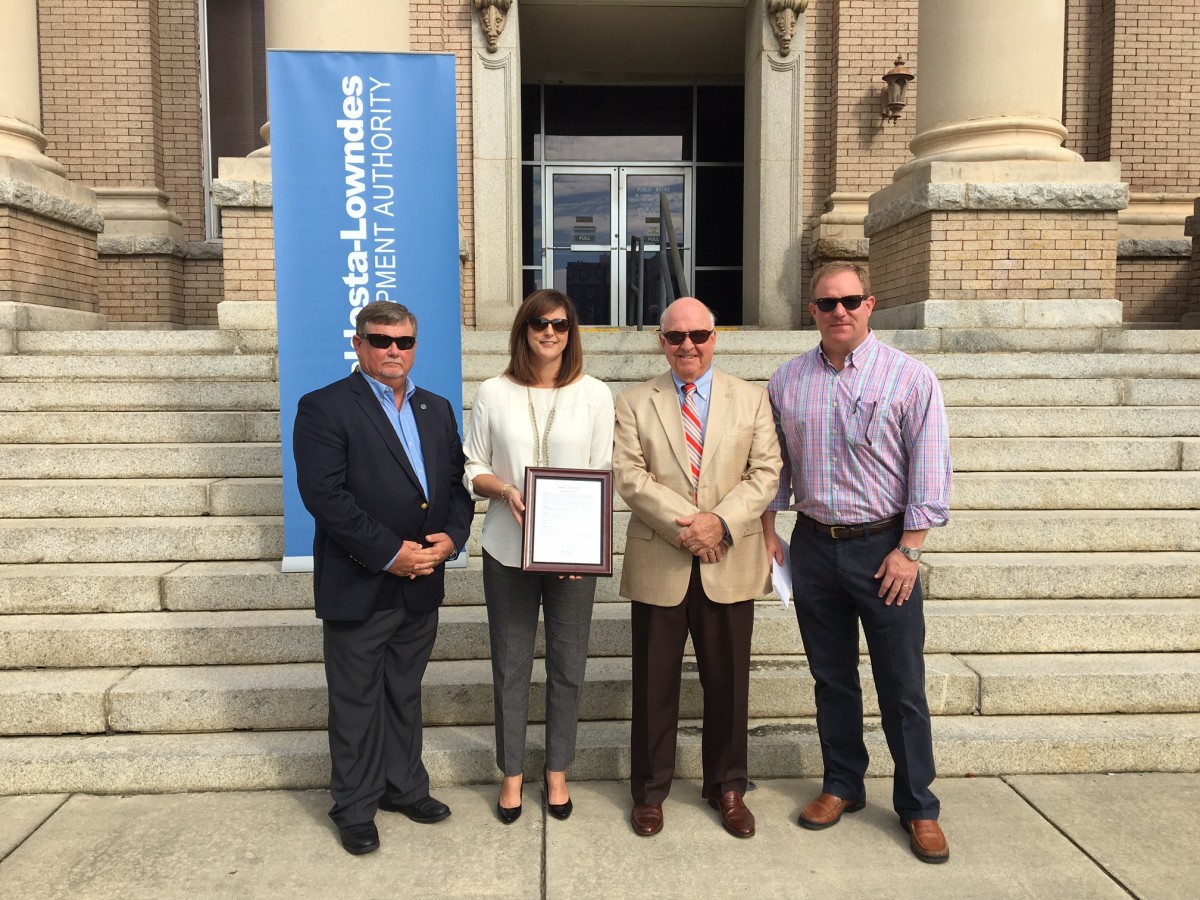 Valdosta, Georgia- The Valdosta-Lowndes County Development Authority along with the City of Valdosta and Lowndes County government officials celebrated local manufacturers with a National Manufacturing Day proclamation on Monday, October 3,2016 at the Historic Lowndes County Courthouse.
"The proclamation shows appreciation and thanks to all of the manufacturers locally who continue to provide jobs and growth for our community" said Andrea Schruijer, Executive Director, Valdosta-Lowndes Development Authority.
Valdosta-Lowndes County is fortunate to have a viable manufacturing landscape that employees almost 4,000 residents locally.
Valdosta-Lowndes County is currently home to over 35 companies in the manufacturing sector including automotive, agribusiness, food processing and chemicals. Many of these manufacturers have be instrumental in continued growth with jobs and capital investments throughout the years.
"We are proud to be home to a variety of manufacturers that export thousands of quality products globally, "says Schruijer. We recognize the hard work of our residents and the industries located in Valdosta-Lowndes County which makes us a business friendly community.
The proclamation was in conjunction with National Manufacturing Day, celebrated Friday, October 7, 2016 and signed by both Lowndes County Board of Commissioners Chairman, Bill Slaughter and City of Valdosta Mayor, John Gayle.
National Manufacturing Day is recognized as an effective way to highlight the importance of the manufacturing in our economy and draw attention to the many rewarding, high-skilled manufacturing jobs.
For more on National Manufacturing Day visit www.mfgday.com . For more on the Valdosta-Lowndes Development Authority visit www.buildlowndes.com .
About Valdosta-Lowndes Development Authority
The Development Authority is an organization that oversees industrial and economic development in Valdosta and Lowndes County. In 1960 the Authority was formed as an amendment to the Georgia State Constitution. The mission of the Valdosta-Lowndes Development Authority is to create an environment to attract new industry and promote the growth of existing industry to drive job creation and capital investment.