CJB Industries Expands Production at Gil Harbin Facility
August 4, 2023

Valdosta, GA – CJB Industries continues to expand its manufacturing capacity by completing a 6,500-square-foot addition at its Gil Harbin formulation plant in Valdosta, Georgia.
From conception to completion, the $4 million project gives CJB Industries the ability to increase herbicides, plant growth regulators, and industrial products in bulk, as well as packaged finished goods.
"This capacity expansion project was conceived in response to the urgent need of a customer," said Sims Turner, CJB Industries sales manager. "We're excited to bring this new capacity to our other customers, especially considering our facility's proximity to transportation corridors connected to key agricultural regions of the country and global shipping lanes."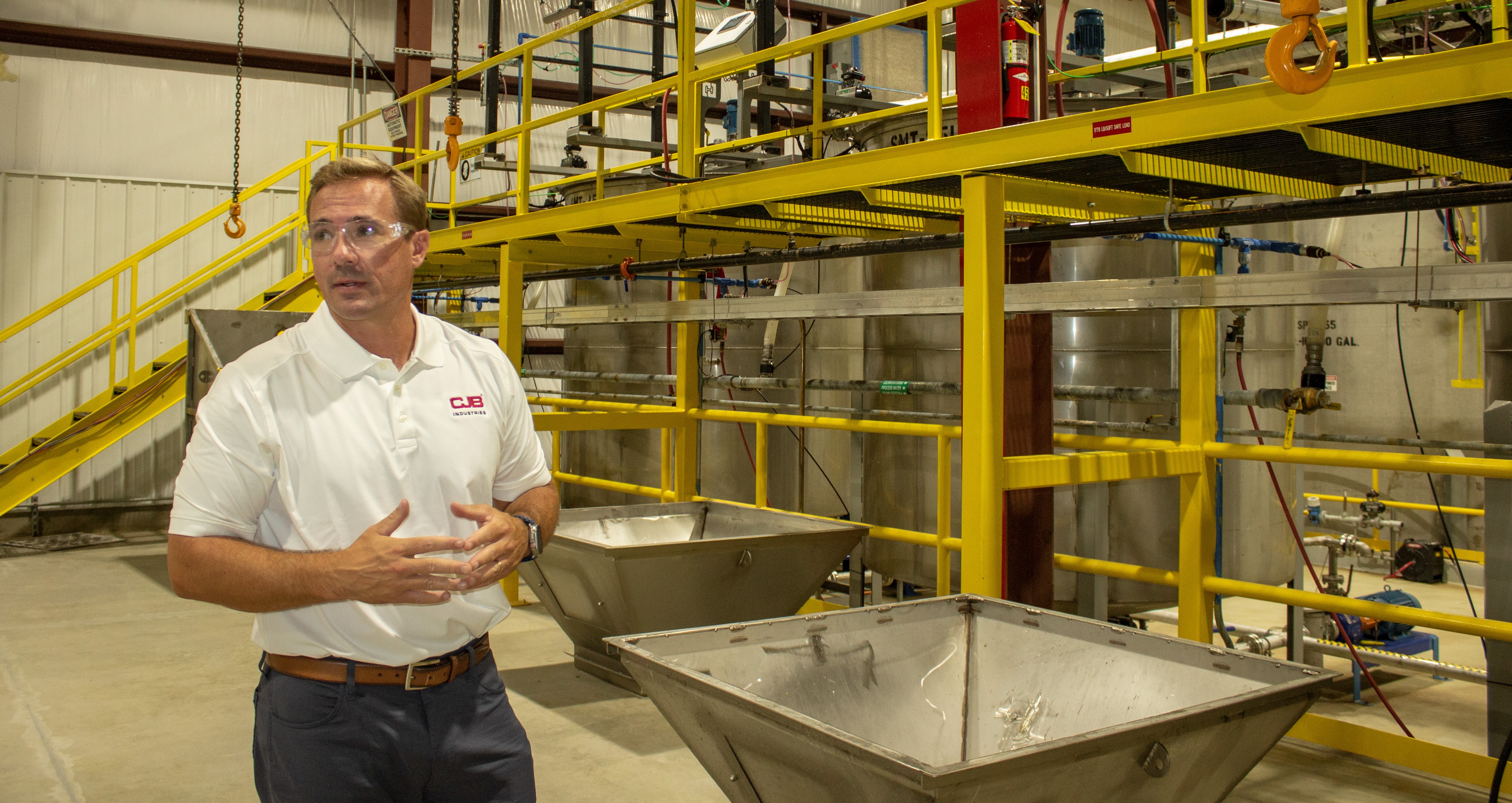 Since coming online in December, the new system has produced half a million gallons each month. Depending on the customer's formulation process, it can create an additional three to six million gallons per year.
Turner explained flexibility exists to add other capabilities, including packaging lines, heating, or in-line dispensers.
"We're able to outfit the system to fit each product's needs and specific nuances," he said.
Construction continues at the Gil Harbin facility with a 45,000-square-foot expansion, including upgraded lab, office, and warehouse space. The $5 million investment is scheduled to be completed by the end of the year and create 25 new jobs.
"The new design will further our commitment to adhere to CropLife guidelines as they relate to simultaneous operations while giving our customers the ability to deliver products efficiently and cost-effectively," Turner said. "We invite all chemical companies to connect with CJB Industries to discuss formulation, packaging, and transportation solutions for their products."
CJB Industries is a multi-plant operation with three formulation facilities totaling 325,000 square feet, including the Gil Harbin location and two plants on Cypress Street.
"These expansions further CJB Industries' commitment to its customers," said Turner. "We work with the top 10 agricultural companies in the world, and they each have standards for their internal and external partners. We adhere to those guidelines and are responsible stewards of the environment."
More than 1.2 billion pounds of pesticides are applied annually to crops in the U.S. This year, CJB Industries will produce about 95 million pounds of herbicides, fungicides, plant growth regulators, and insecticides at its three formulation facilities.
CJB Industries produces about 8% of all agricultural pesticides used in the U.S. each year.
The addition of bulk capacity to the Gil Harbin facility is complemented by the company's ISO (International Organization for Standardization) and tanker truck loading capabilities, access to rail and interstate transportation, and proximity to ports in Savannah, Jacksonville, and Charleston.
"The Port of Savannah allows us to produce in bulk and use global shipping lanes," he said. "It's a vital gateway to South America and other global agricultural markets."
The combined Gil Harbin investments are projected to inject more than $52 million into the region's economy over five years.