Live and Play
Shopping and Dining
Valdosta-Lowndes County is known for its friendly business environment, a quality education system, robust housing market, recreational opportunities and entertainment, and a thriving art community.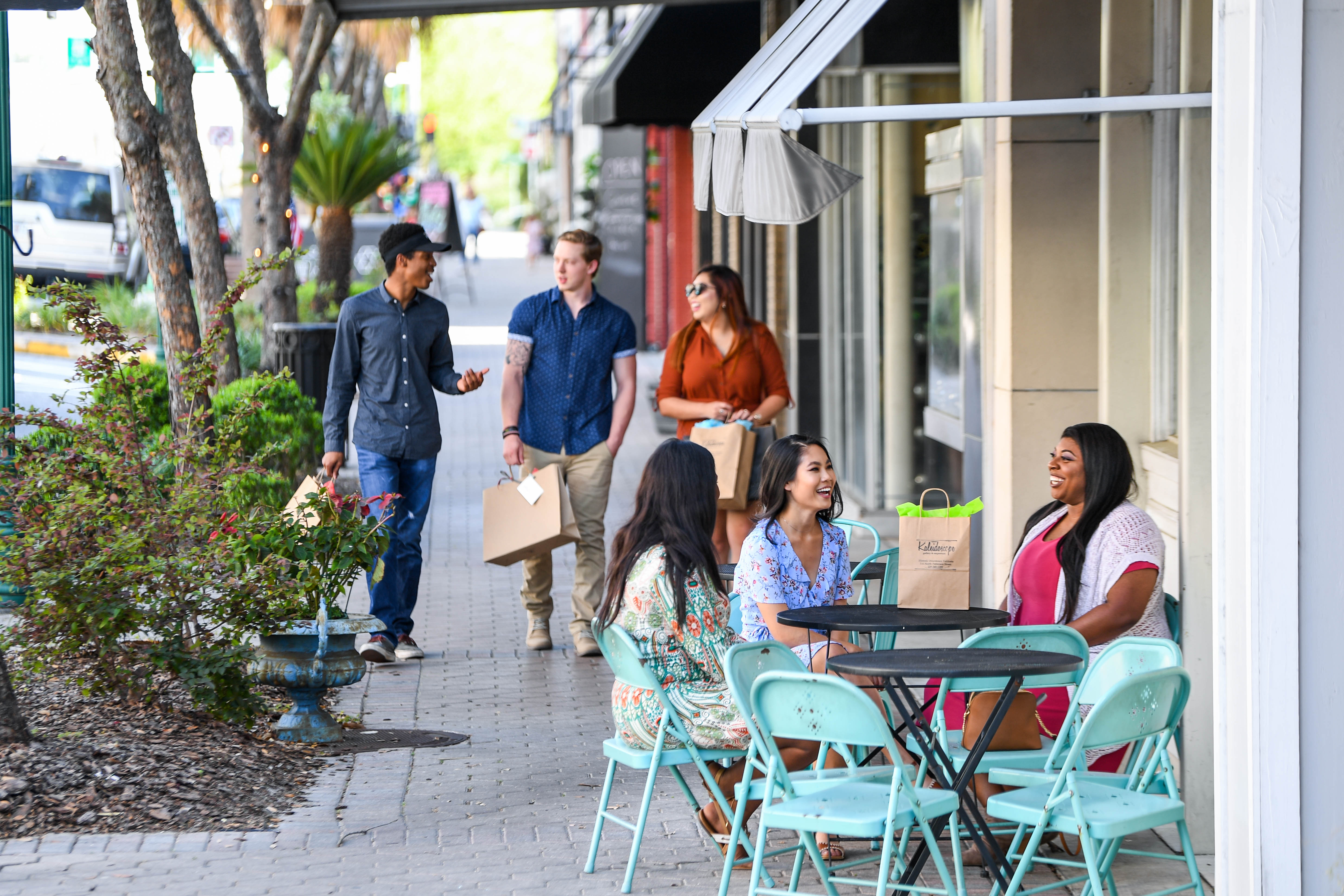 A foodie's paradise, Valdosta-Lowndes County has delectable choices to tempt your taste buds from smokin' hot barbeque to savory shrimp and grits, or maybe a home-style country menu is more to your liking. Come explore what Valdosta-Lowndes County has on its plate.
From the downtown districts in Valdosta and Hahira to the Valdosta Mall and scattered shops throughout, Valdosta-Lowndes County offers an assortment of options. Take a stroll through boutiques featuring casual to upscale fashions to curated home décor, antiques, gift shops, and more.
Arts, Entertainment and Culture
Visual Arts:

At the heart of Valdosta-Lowndes County's art experience is the Annette Howell Turner Center for the Arts, a premier regional art center located just steps from Downtown Valdosta. The center offers a wide range of art experiences, from outdoor concerts to children and adult workshops and approximately 30 exhibits annually.
Valdosta State University's art vibe spreads across the community and region, with summer professional theatre productions to yearlong theatrical productions, art exhibits, and musical performances.
The Annette Howell Turner Center for the Arts
Music:
Theatre:
Turner Center for the Arts Presenter Series
Festivals:
Museums:
Lowndes County Historical Museum
Copeland African American Museum
Recreation
Whether you want to sink some putts, make some shots, or just soak up the sun in a beautiful natural setting, in a city nicknamed "Winnersville" for its national sports record, it's easy to take a break and slow down and enjoy life:

The Valdosta-Lowndes County Parks & Recreation Authority (VLPRA) provides affordable recreation services and facilities for residents of Valdosta and Lowndes County. The VLPRA offers youth sports in football, baseball, basketball, soccer, volleyball, and tennis. Programs for adults and seniors are also available.
Tennis: The Harry B. Anderson Tennis Center at McKey Park is home to 18 courts that are free for public use. The VLPRA offers a year-round tennis program with individual or group lessons, tennis clinics, leagues, and tournaments.

Youth Programs: Valdosta-Lowndes County offers sports for every season. A full range of athletic programs are available for girls and boys in basketball, baseball, T-ball, football, soccer, cheerleading, and softball. Day camp, leadership development, and mentoring programs are also popular activities for children in our community.


Senior Citizens: From hula hoop aerobics to ukulele lessons and bridge clubs to Tai Chi classes, there's a range of activities to keep seniors on the go—even jetting across the nation and the world with a self-supporting Travel Club.
Golf:
Valdosta Country Club: Featuring 27 holes, a driving range, and two practice greens on a course that in previous years has hosted the NCCA II Golf Tournament and the USA Seniors Tour.
Stone Creek: The pride and joy of a true-blue golfing community, an 18-hole course rated 72.5 with a slope rating of 130.
Kinderlou Forest: Designed by PGA Pro Davis Love, an 18-hole course rated 76.6 with a slope rating of 144 and a 60-tee driving range.
Moody Quiet Pines: A 9-hole course managed by the United States Air Force and located on Moody Air Force Base.
Francis Lake: A welcoming 18-hole public course rated 71.8 with a slope rating of 131.
Wild Adventures Theme Park:
Located on Interstate-75 just a few miles from Valdosta, Wild Adventures is a 177-acre theme park with thrilling rides, a waterpark, a zoo with hundreds of exotic animals, and an all-star concert venue.
Great Outdoors:

When it comes to the great outdoors, Valdosta-Lowndes County is a natural treasure with lakes offering swimming, boating, wakeboarding, water skiing, and trophy-worthy fishing. The Grand Bay Wildlife Management Area provides an eco-friendly outdoor educational experience. Nearby, three Georgia state parks provide plenty of outdoor options with hunting, fishing, hiking, and camping. Valdosta-Lowndes County is also home to more than 40 local designated public parks.
Valdosta Wake Compound: Located off Interstate 75 at exit 13, the 30-acre facility is one of the first in the country built on a lake with custom-developed ponds and a six-tower cable system.
Grand Bay Wildlife Management Area: Hunting, fishing, canoeing, hiking, and wildlife viewing are part of a day of outdoor fun at Grand Bay.
Grassy Pond: Managed by Moody Air Force Base, Grassy Pond is open to the public seven days a week and welcomes visitors from across the region. The 500-acre recreational area has cabins, recreational vehicle and tent sites, group picnic shelters, a recreational boat area, nature trails, grills, and other amenities. Cost is free for Department of Defense cardholders and $5 per vehicle with up to six people and $2 per additional person.