Georgia Beer Company Breaks Ground on Brewery
March 7, 2018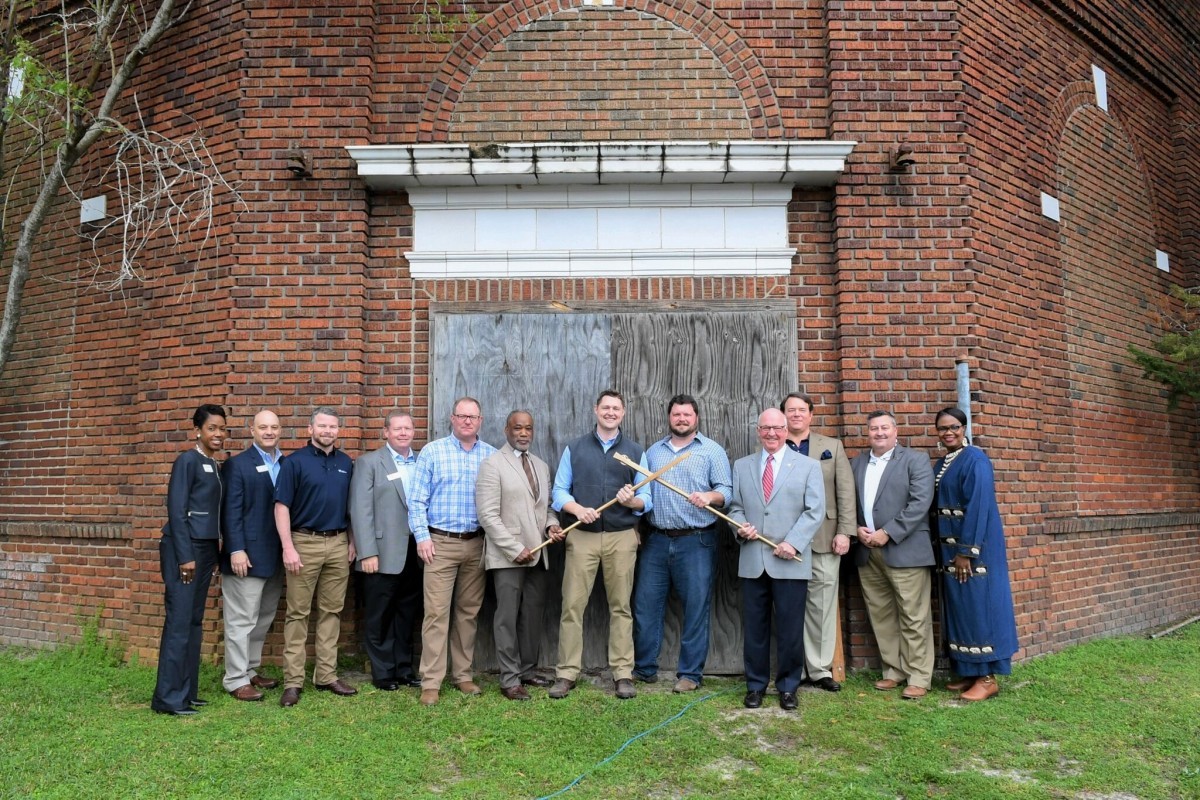 March 7, 2018- Georgia Beer Company, the first brewery in Valdosta-Lowndes County, Georgia broke ground on their facility Tuesday, March 6. The groundbreaking, which was hosted by the Valdosta-Lowndes County Development Authority and Valdosta Main Street, was held at the brewery's future home in Downtown Valdosta.
"This has truly been a community project and could not have happened without the City of Valdosta, Central Valdosta Development Authority, Georgia Power and Valdosta State University's Small Business Development Center," said Tom Call, chairman of the Valdosta-Lowndes County Development Authority Board of Directors. "We want to thank all our local partners. This project was not typical for us, but when the board looked at the community benefits of having a microbrewery in town we saw a huge return on investment for the community."
For over three years now, Georgia Beer Company has worked with several public and private partners to make this project possible.
"Working with numerous public and private partners, especially the Valdosta-Lowndes County Development Authority, has made our dream a reality," said Chris Jones, director of business development for Georgia Beer Company. "The level of enthusiasm, professionalism and willingness to help from each partner has been more than we could have ever wished for, and this experience justifies our belief that we chose the right community for our brewery."
Georgia Beer Company plans to produce several different styles of beer during their first year. These products will be packaged on site and distributed to local and regional retail outlets in both Lowndes County and regional cities.
In addition, they will produce a constantly changing selection of small batch beers that will be available for purchase exclusively at the brewery.
"Not only is this a wonderful capital investment for our community, the tourism component of a brewery in Downtown Valdosta is great for attracting visitors from all over into our community and downtown, said Andrea Schruijer, executive director of the Valdosta-Lowndes Development Authority. "We are ecstatic to have them opening their doors this fall."
Georgia Beer Company will be located in the old Waterworks building located on South Briggs Street.
"Not only do we anticipate the employment of 5 to 10 locals for this new business, but also the re-employment of a retired, historic building that has served our community well," said Valdosta Mayor John Gayle. "Nothing makes me more proud than successful public-private partnerships as this one, and the expected continued growth of our beautiful downtown area, our city and surrounding county. I applaud The Georgia Beer Company for its business endurance which is an example of the hard work and excellence for which TitleTown USA is known."
According to the Brewers Association, small and independent American craft brewers contributed $67.8 billion to the U.S. economy in 2016 and provided more than 456,000 full-time jobs.
Georgia Beer Company plans to create 5 to 10 jobs within 24 months.
About Valdosta-Lowndes County Development Authority
The Development Authority is an organization that oversees industrial and economic development in Valdosta and Lowndes County. In 1960 the Authority was formed as an amendment to the Georgia State Constitution. The mission of the Valdosta-Lowndes County Development Authority is to create an environment to attract new industry and promote the growth of existing industry to drive job creation and capital investment.