Making the Work Connection
June 15, 2022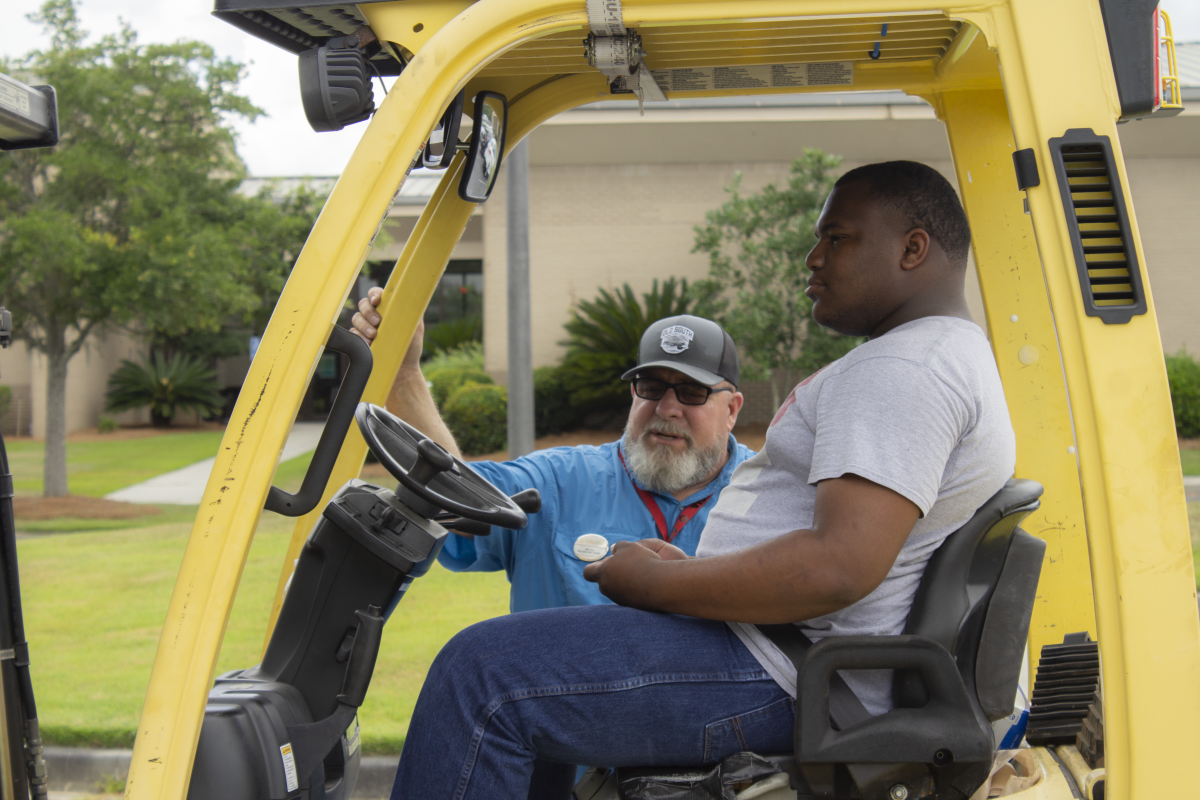 Workforce Training: Wired for Workforce student Keethon Scruggs receives forklift training from Mike Day, Wiregrass Tech's area director for the Welding Department and forklift trainer.
Making the Work Connection
Valdosta, GA- Connecting recent high school graduates to potential jobs in the region is the focus of Wired for Workforce, a five-day training program sponsored by Wiregrass Georgia Technical College and the Valdosta Lowndes County Development Authority (VLCDA).
The program, which took place June 6-10, 2022, was open to students from Valdosta, Lowndes, and Echols counties, and participants were selected based on their career plans after high school.
Students received forklift and OSHA training, industry-specific instruction on tools, math and measurement, employability skills, and resume writing. In addition, participants toured Langdale Forest Products and Lowe's Distribution Center, and representatives from CJB Industries, Langdale Forest Products, South Georgia Pecan, and Teamtemps Personnel Staffing discussed job opportunities. Program lunch sponsors included CJB Industries, Langdale Industries, South Georgia Pecan, Wild Adventures, and Wiregrass Tech.
Students that completed the weeklong training and the required tasks earned a certificate for Forklift Safety from Wiregrass Tech, an OSHA 10-hour General Industry Certification, and a Certificate of Completion for Wired for Workforce from the VLCDA.
"Additionally, upon conclusion of the training, students have a professionally developed resume and conducted mock interviews, some of which may lead to employment opportunities," said Joe Sumner, associate vice president for Economic Development at Wiregrass Tech.
While this was the first Wired for Workforce program, in the past, Wiregrass Tech and the VLCDA have sponsored numerous programs, including industry tours that introduce high school students to future job opportunities in the region.
"Part of the development authority's focus is ensuring that our new and existing businesses and industries are equipped with a highly-trained workforce," said Stan Crance, VLCDA director of Business Recruitment and Existing Industry. "The Wired for Workforce program offers our industry leaders a chance to engage with recent high school graduates and gives the students a chance to discover long-term job possibilities. The goal is to keep young talent in Valdosta."
Sumner explained that the Wired for Workforce curriculum was developed based on specific requests and everyday needs from area businesses and industries.
"Local employers identified and requested every skill and competency within the Wired for Workforce program," Sumner said. "This allows us to provide precision training to address the specific needs of local employers."
The program's target participation is high school seniors and recent graduates with limited or no career plans after graduation.
"The Wiregrass mission and vision is built around workforce development, and within our Economic Development department, it is the primary driver of our operations," Sumner said. "As a customized, fast-paced, short-term training solution, the Wired for Workforce program provides our team with yet another resource we can offer employers and young adults in our shared goals of creating a highly-skilled local workforce."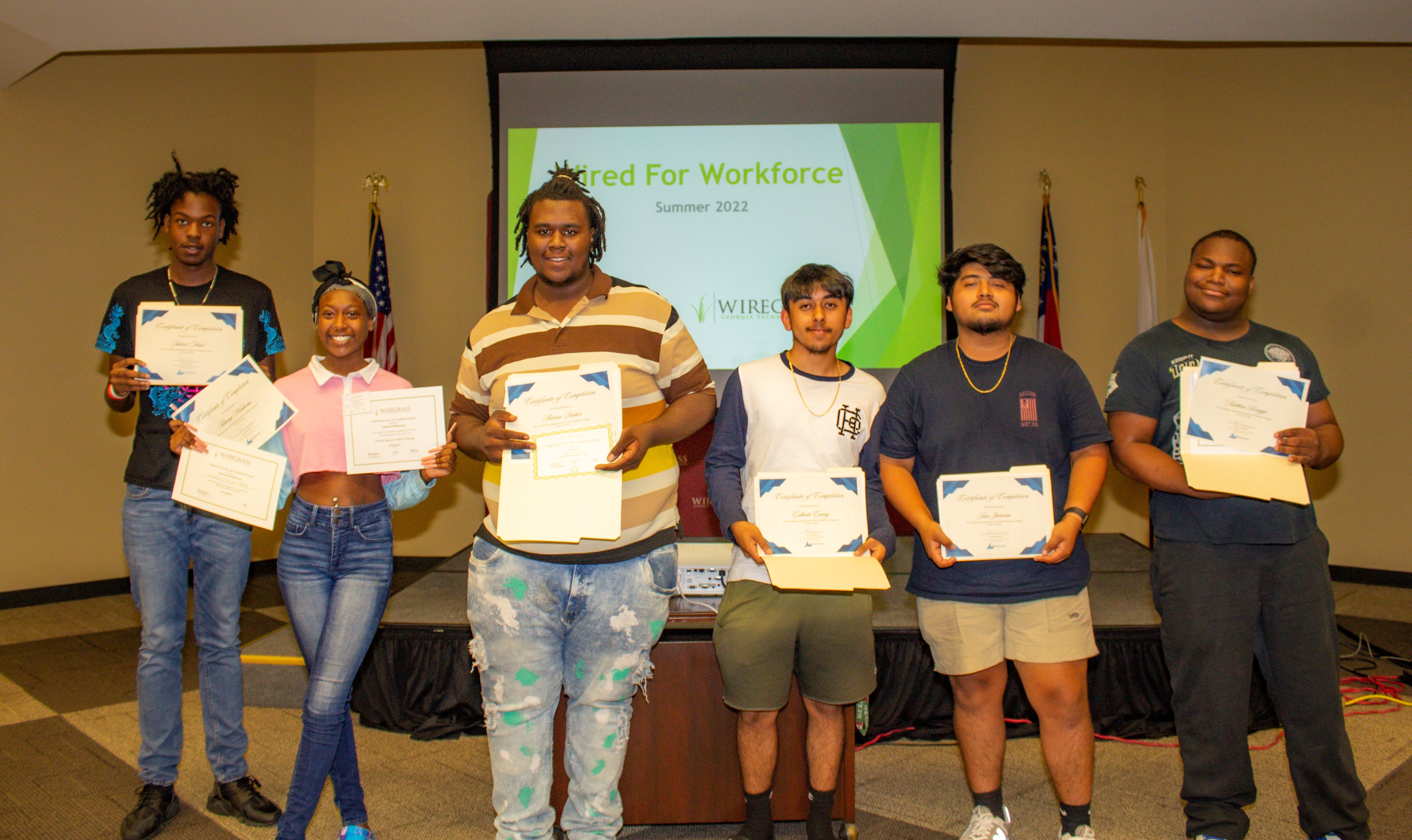 Ready to Work: The inaugural class of Wired for Workforce received their certifications after five days of job training. Pictured, left to right, Jakeiss Head, Asharyi Winborne, Antonio Booker, Gilberto Garay, Jose Zacarias, and Keethon Scruggs. Not Pictured: Le'Mario Marshall
About Valdosta-Lowndes Development Authority
The Development Authority is an organization that oversees industrial and economic development in Valdosta and Lowndes County. In 1960 the Authority was formed as an amendment to the Georgia State Constitution. The mission of the Valdosta-Lowndes Development Authority is to create an environment to attract new industry and promote the growth of existing industry to drive job creation and capital investment.