Arglass to Revolutionize Glass Manufacturing in the U.S.
October 9, 2019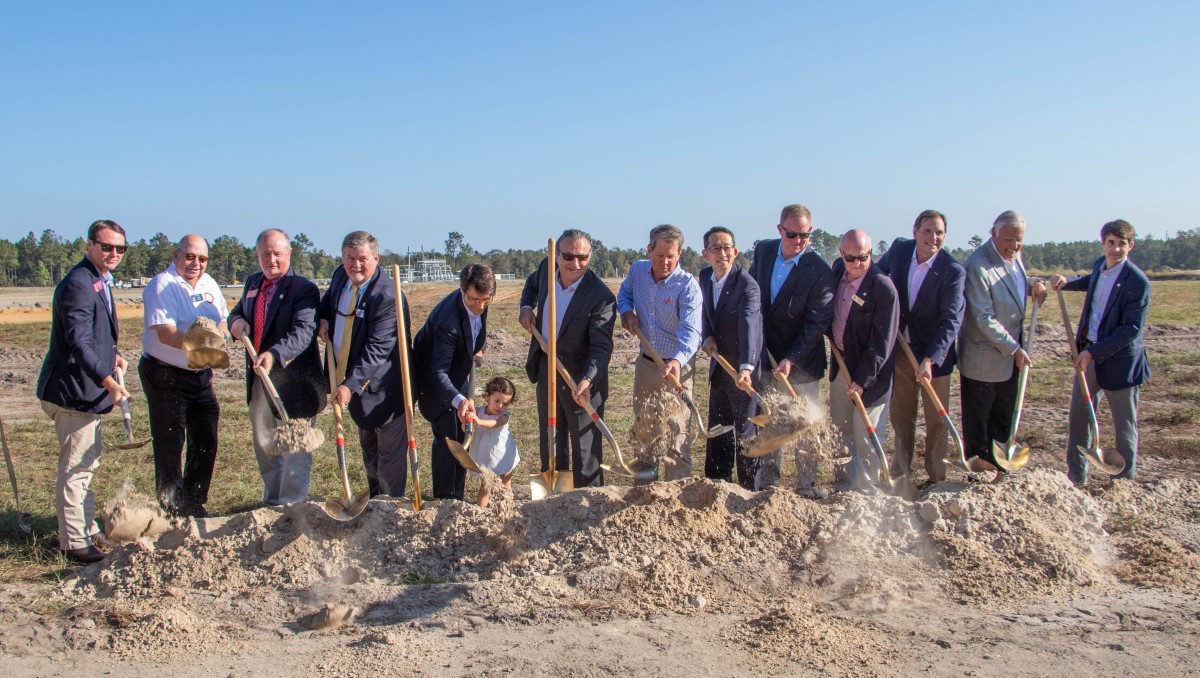 NEW GEORGIA COMPANY TO REVOLUTIONIZE GLASS MANUFACTURING
IN THE U.S. WITH STATE-OF-THE-ART COST-EFFICIENT CUSTOMIZED RUNS
VALDOSTA, GA October 2019 – Construction is well underway for a $123 million glass container manufacturing plant that is going to revolutionize the American glass industry via a greenfield start-up plant that will use best-in-class technology to serve the US glass packaging industry, hence reducing the number of imports from China and other countries. Arglass Southeast, a subsidiary of new holding company Arglass Yamamura, will cater to the spirits, wine and food & beverage industries using the latest technology for efficient glassmaking in what will become the world's most modern glass plant to date.
Arglass Yamamura, a joint venture between Cambium and leading Japanese glass container manufacturer Nihon Yamamura, has invested heavily in putting their plant with state-of-the-art machinery and equipment on the map. Arglass is on schedule to produce the first sellable bottles by November 2020, and by Q1 2021, its single furnace with three lines will be capable of producing up to five different products simultaneously in up to two different colors for a total of more than 100,000 metric tons per year, or 265,000,000 units per year. A groundbreaking ceremony with Governor Brian P. Kemp and the Valdosta-Lowndes County Development Authority took place on October 3, 2019 to mark this most anticipated venture in the State of Georgia, which will eventually generate more than 150 American jobs.
Until now, the glass industry had traditionally focused on making products that required long production runs. As a result, customers with more diverse product portfolios along with the specialty and smaller-volume food and beverage producers, had to rely on imports or distributors that offered limited options for their glass container supply. Arglass saw the need to resolve the issue with a much better alternative via a plant that would follow three principles – flexibility, efficiency and sustainability. "We believe there is a large untapped potential in the U.S. consumer market for glass. Our goal is to help more producers choose glass as a healthy, safe and environmentally responsible material that can at the same time be customized, dynamic, colorful and cost-competitive," said Arglass Chairman and CEO José de Diego Arozamena.
The idea of following the three aforementioned principles is a unique model in the United States. The plant has been designed and optimized from the ground up to achieve a high degree of "flexibility" without sacrificing efficiency. Based on a combination of today's best and most advanced proven glass technologies for container glassmaking in Europe, Arglass' European model of highly flexible plant, will be able to produce both small and large runs at a competitive price. In addition, the machinery and equipment will include innovative quality assurance systems, which will allow for greater automation, quality control and process management. The plant has been designed with "efficiency" in mind allowing for lower downtimes in between the changing of molds and color. It will also be capable of efficiently producing from two to twelve sections in double and triple gob configurations and it will offer a wider range of glass colors thanks to its feeder coloring capabilities, which will eliminate the need for color campaigns. Full in-house decoration services will help reduce handling and logistics costs, thus reducing costs, improving efficiency and sustainability while optimizing time to market. From the very inception of this project, Arglass made the conscious decision to be the most "sustainable" glass plant in America. "We have applied the latest and best available technology in every aspect of our plant to be more environmentally friendly. From our oxy-fuel furnace to our emissions control systems and closed-loop industrial water system, which will eliminate 99% of water consumption, our goal has always been to reduce our environmental footprint," says Arozamena, who also adds that "recycling is our future and we're committed to it. That is what we are conveying with our logo, which depicts the gob of glass and its endless life cycles." In fact, Arglass will continuously work to increase the use of glass cullet, which is an integral part of their sustainability model. They believe that the U.S. glass industry must actively work together to improve cullet recovery, processing and recycling, even if it means creating joint-venture cullet treatment companies.
As a result of their partnership with Nihon Yamamura Glass, the leading glass-making company in Japan for more than 100 years, Arglass will now be able to offer its customers the benefit of Yamamura's world-leading expertise in light weighting bottles as well as in feeder coloring, potentially reducing the weight of bottles by up to 20% and offering a broader range of glass color options. Arglass will also be the only plant in the world to offer the Arglass proprietary Bottle DNA™, an innovative traceability and quality assurance system that will allow for individual bottle traceability throughout the supply chain. This Bottle DNA™ traceability can be key in case of a product recall.
Selecting Valdosta, Georgia as its primary location was part of a strategic plan that would first and foremost provide a plant within easy reach of the primary spirits producing regions in the country, thereby improving client lead times and logistics costs. Secondly, Valdosta offered very competitive energy, labor and raw material input costs. Thirdly, Arglass has plans to provide a "Vertical Startup" training program that could very well tap into the talent pool coming from the local university and college. "We are currently in the process of selecting top candidates and are interviewing several highly experienced and successful professionals for all key positions at the plant. We want to attract people that are dynamic, performance-driven and fully committed to the success of Arglass," said Arozamena. Arglass is offering competitive compensation packages, good career development opportunities and the chance to be part of a team comprised of 151 new jobs in the State of Georgia.
For more information, visit https://arglass.us/. Arglass will be located at 103 Roosevelt Drive, Valdosta, GA 31602.
To view video of the site where Arglass is currently building their plant, click here: https://youtu.be/FEu-Ymu7d8Y. For interviews, please contact Dina Allende at 305-205-1058 or dallende@tinkle.es.