Valdosta-Lowndes County Development Authority Launches Site to Attract Investment
August 6, 2018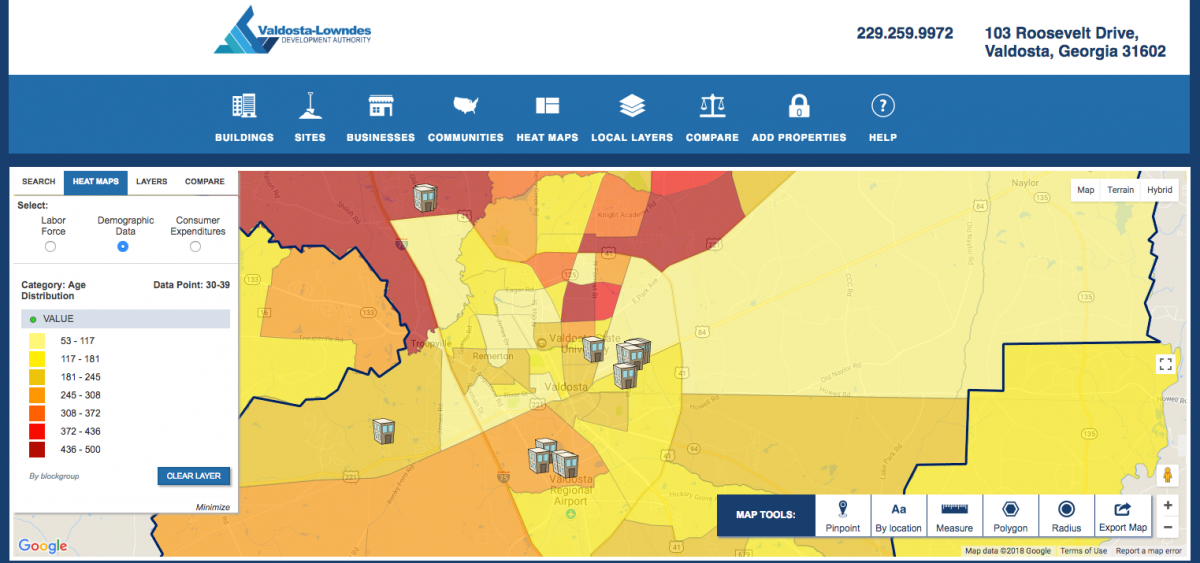 Valdosta, Georgia- The Valdosta-Lowndes County Development Authority (VLCDA) has launched ValdostaLowndesProspector.com to promote the community for business relocation and expansion. The online data portal makes information, research and analysis instantly accessible to community stakeholders, site selectors and businesses making location decisions.
"Valdosta-Lowndes County is a competitive community that cultivates knowledge and innovation, attracts and retains skilled and motivated labor across our region," said Andrea Schruijer, executive director of the Valdosta-Lowndes County Development Authority. "Our community has the quality infrastructure needed to support industrial and economic development. Valdostalowndesprospector.com helps us showcase those assets and tell our story in a more dynamic way."
The streamlined freestanding site is mobile-friendly and offers access to the latest business intelligence tools, powered by GIS Planning, the industry leader in economic development software. As site selectors or prospective investors assess possible locations, they can obtain the most accurate and up-to-date information on thousands of variables.
Existing and potential prospects can research, analyze and export local and regional data on demographics, consumer spending, labor force, business, industry, infrastructure, and other GIS points of interest. These data tools allow businesses to search and analyze available commercial and industrial sites and buildings, in order to choose the location that best fits their criteria.
"Market research shows that more than 97% of site selectors research locations online, often without contacting the economic development organizations, "explains Anatalio Ubalde, CEO and co-founder of GIS Planning Inc., developers of the site selection software. "ValdostaLowndesProspector.com ensures that the data they might need is always available. With this site, Valdosta-Lowndes County, Georgia is open for business 24 hours a day, 7 days a week."
For more information, please visit: www.valdostalowndesprospector.com. For inquiries, please contact the Valdosta-Lowndes County Development Authority at 229.259.9972.
About Valdosta-Lowndes County Development Authority
The Development Authority is an organization that oversees industrial and economic development in Valdosta and Lowndes County. In 1960 the Authority was formed as an amendment to the Georgia State Constitution. The mission of the Valdosta-Lowndes County Development Authority is to create an environment to attract new industry and promote the growth of existing industry to drive job creation and capital investment.