Valdosta Ranked as Top City Positioned For Economic Advancement in the New Decade
December 23, 2019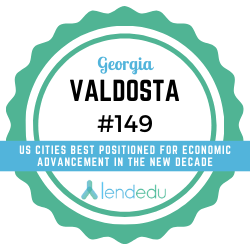 Valdosta Ranked as Top City Positioned For Economic Advancement in the New Decade
Valdosta, Georgia- Lendedu recently ranked Valdosta as one of the best positioned cities for economic advancement in the new decade.
Analyzing a variety of socioeconomic factors deemed important for economic success in the new decade such as recent income growth, population changes, and educational attainment levels for 400 cities in the United States, Valdosta ranked #149 specifically.
"While most list these days are reviewing the previous decade, it's great to have one that makes us think into the future as we approach the 2020s. I am proud to see Valdosta recognized as we are prepared for an economic boom in the next 10 years," said Mayor John Gayle. "We have seen tremendous growth in our community just in the past year through new industries and current industry expansions"
"This ranking is reflective of the partnerships of organizations that provide education and skill development, job creation and retention, industry recruitment and all the other key ingredients that promote our economic vitality here in Valdosta Lowndes County," said Andrea Schruijer, executive director, Valdosta-Lowndes County Development Authority. "Our community has a lot of momentum heading into 2020".
The Valdosta-Lowndes County Development Authority announced over 350 news jobs in 2019 with a capital investment of over $174 million into our community. Companies who located or expanded in our community include Ace Electric, Inc., Arglass, Better Way Products and CJB Applied Technologies